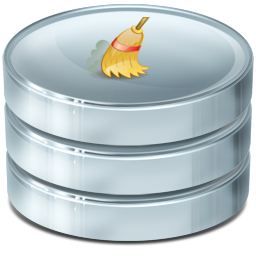 Unused Database Table Deletion
This handy plugin will delete all of those unused WordPress database tables which have been left behind from uninstalled plugins. Don't worry about deleting the wrong tables because WPDBSpringClean will NOT delete any core WordPress tables or tables which are associated with an installed plugin (whether it is ACTIVE or INACTIVE).
Database Table Optimization
Due to regular insertions and deletions in the various DB tables on your system, these tables can quite often hold allocated but unused space. Consequently this can make your DB tables inefficient, fragmented and unoptimized. This plugin will identify unoptimized tables and will allow you to optimize them by deleting the allocated unused space within a particular table. The plugin also optionally allows you to specify search criteria such as the minimum amount of overhead per table and minimum unused space for a table.
By default if no search criteria is specified, the plugin will identify all tables which have an overhead of greater than 10%. (Note: "Overhead" in this plugin is defined as (Data_free/Data_length) expressed as a percentage and where Data_free and Data_length are MySQL table parameters.
"Unused Space" is defined by the value of the MySQL parameter: Data_free)
So why not give your WordPress DB a spring clean today!

Attention Multi-Site users: Currently WPDBSpringClean is only supported for single site WordPress installations. Support for multi-site is definitely on our to-do list so please stay tuned.
Installing WPDBSpringClean
FTP the WPDBSpringClean folder to the /wp-content/plugins/ directory, OR, alternatively, upload the WPDBSpringClean.zip file from the Plugins->Add New page in the WordPress administration panel.
Activate the WPDBSpringClean plugin through the 'Plugins' menu in the WordPress administration panel.
Using the WPDBSpringClean Plugin
1. Finding and Deleting Unused DB Tables
After you've installed and activated the WPDBSpringClean plugin, go to the Settings menu and choose WPDBSpringClean as shown below: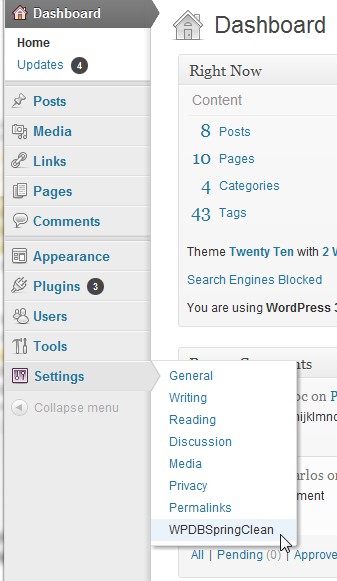 You will then be taken to the WPDBSpringClean admin page which looks like the following:
To start a search for any remaining unused tables from plugins which were uninstalled, click on the "Perform Search" button.
After searching your WordPress system, the WPDBSpringClean plugin will display any results as shown below (click on image for larger view):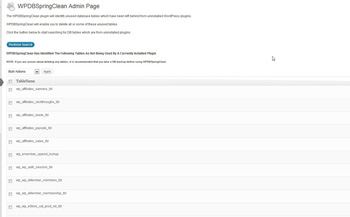 To delete a single table, simply click on the "Delete" link. Or alternatively to bulk delete tables, select the entries you wish to delete by using the checkboxes and then select the "Delete" entry in the "Bulk Actions" drop down box and click the "Apply" button.
NOTE: If you are unsure about deleting any DB tables, it recommended that users of this plugin should take a backup of their DB before using it.
2. Optimizing DB Tables
To find unoptimized tables which you can then optimize do the following:
Click on the DB Table Optimize tab.
Then enter the optional search criteria and click the Perform Search button. This plugin gives you the option of specifying the minimum overhead per table you wish to search for and also the amount of unused space.
If you choose to not specify any search criteria the plugin will default to:
Minimum Overhead = 10%
Minimum Unused Space = any
If you have any unoptimized tables based on the search criteria the tables will be displayed as shown in the image below (click on image for larger view):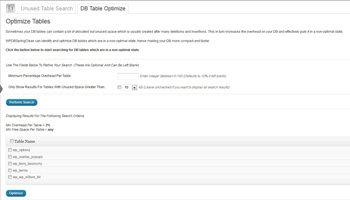 Select the tables you wish to optimize and then click the "Optimize" button.