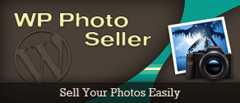 When it comes to selling photos or prints online, it usually isn't enough to simply use a general shopping cart plugin.
Photographers or anybody selling images or prints via their WordPress website usually require specific functionality which is unique to the field of photo selling. Most shopping cart plugins don't cater for things like gallery creation, watermarking and specific pricing for particular photo variations. The existing plugins which do, often require you to install and integrate a third party plugin such as next-gen gallery to handle most of the image-specific tasks.
There are also other options out there such as Photocrati who offer a theme which will handle your photo eCommerce functionality, but this is rather restrictive in the sense that you are forced to install their theme and cannot use your existing one.
Luckily there is a now a shopping cart plugin which is designed specifically for photographers and which doesn't need any third party plugins or themes in order for you to get all of the functionality you need as a photographer wanting to sell images from your WordPress site. [Read more…]