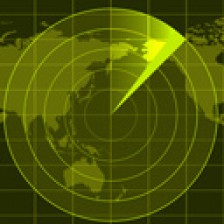 Your website is like a "virtual" version of a piece of property or business where you have invested a lot of work over the months and years, and just like any real "bricks and mortar" property and investment you should always try to protect the contents inside of it.
For example, let's say you owned a "real" camera shop in the city. If you are a smart business person, you would do all of the necessary due diligence to protect your investment such as installing burglar alarms, locks and taking other security measures and also even getting insurance for your business.
Similar security and insurance measures should also apply to your website.
One of the most common downfalls of websites is poor security which usually results in the infection of the site contents with malware and other malicious scripts.
What is Malware?
The word malware is an abbreviation for "Malicious Software".
In a nutshell it is basically a malicious script or piece of hostile code which is secretly injected into your site's webpage files.
Other common security threats which can also fit under the "malware" name include things such as adware, worms, spyware, trojan horses etc.
Just as your computer can be infected by a virus, the same thing can happen to your website.
The injection of such undesirable and hostile code such as the types mentioned above, can occur in such a way that you may not notice that your precious site has been compromised until days, weeks or even months later.
When a hacker inserts their malware script into some of your files, they will usually do it in a way that is sometimes difficult to detect for the untrained eye…..and sometimes even the trained eye because new hacking techniques are being developed each day.
Hackers normally do this because they want to take advantage of your site's real-estate and traffic by inserting links which point to their porn or pharmacy or other scam websites.
The Effects Of Malware
When a website has been infected with malware the effects can range from disastrous things like financial ruin, and secret and personal data theft, to relatively minor and annoying things such as a rogue link or popup window.
If left unresolved, the malware on your website can become a real liability no matter how benign it may seem at first. This is because big search engine companies such as Google, Bing etc and also malware watchdog sites can often detect via their web crawlers if your site is infected with malware, and they can consequently blacklist your site in order to protect their search customers.
If your site is blacklisted it can have a detrimental effect on the traffic rate coming to your site from search engines, which will in turn manifest itself into disastrous financial effects on your business. A blacklisted site usually means it will be flagged by search engines whenever a visitor tries to browse your site.
For example, if you have been blacklisted say by Google Safe Browsing, every visitor trying to reach your website will usually see a warning similar to that below.
You can minimize the damage if you act quickly
If your site does happen to be hacked and consequently infected with malware, the important thing is to take action to clean up your site as soon as possible so you can minimize the damage done – especially the negative effects to your site's ranking, traffic rate and income generation.
An easy way to keep informed of your site's malware status and help guard against the loss of traffic, rankings and money is to scan your site daily against malware threats and other suspicious code.
Daily Malware Scanning Of Your Website Is a Must If You Want To Protect Your Investment
Scanning your website at least once daily for malware is like having a burgler alarm for your site. Due to the fact that hackers are always coming up with new and sneaky ways to compromise websites, you need a way to quickly detect any malware intrusion which may have occurred on your site so you can address the problem quickly.
Fortunately Site Scanners provide an easy-to-use service which will scan your site every day for the latest malware threats and in addition to that it will also notify you automatically if any malware is found so that you can address the problem immediately.
All you need to do once you've signed up, is to log into your dashboard and enter your site's URL. That's it! From then on, Site Scanners will have your back as far as malware scanning and notifications go.
If after a daily scan Site Scanners find that your site is infected with malware or other malicious code, they will immediately send you an email which will looks something like the following:
You can also view more details by logging into your dashboard as shown below.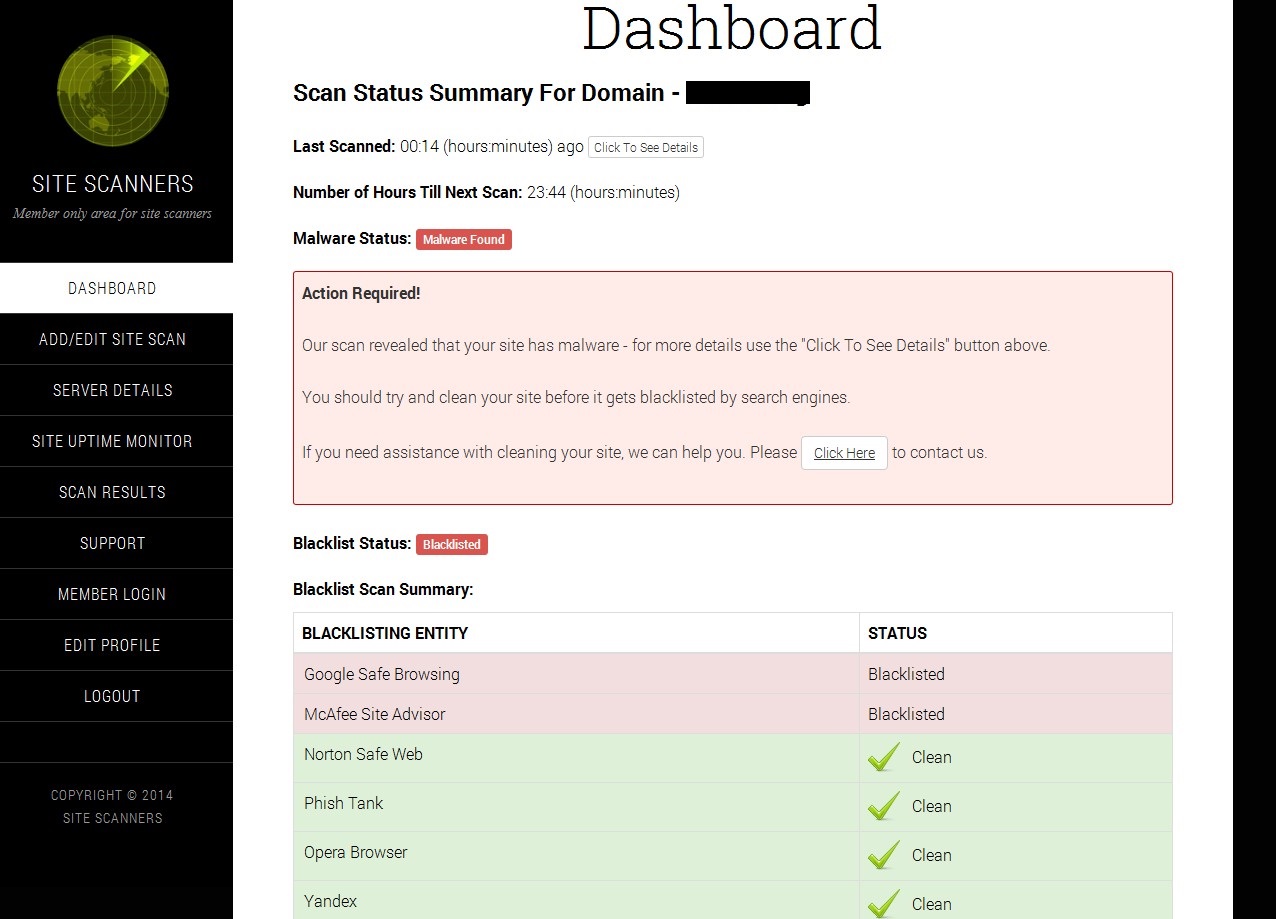 The dashboard will show you any malware infection warnings and you can also click on the details button to view specific details about the malware as shown in the example below: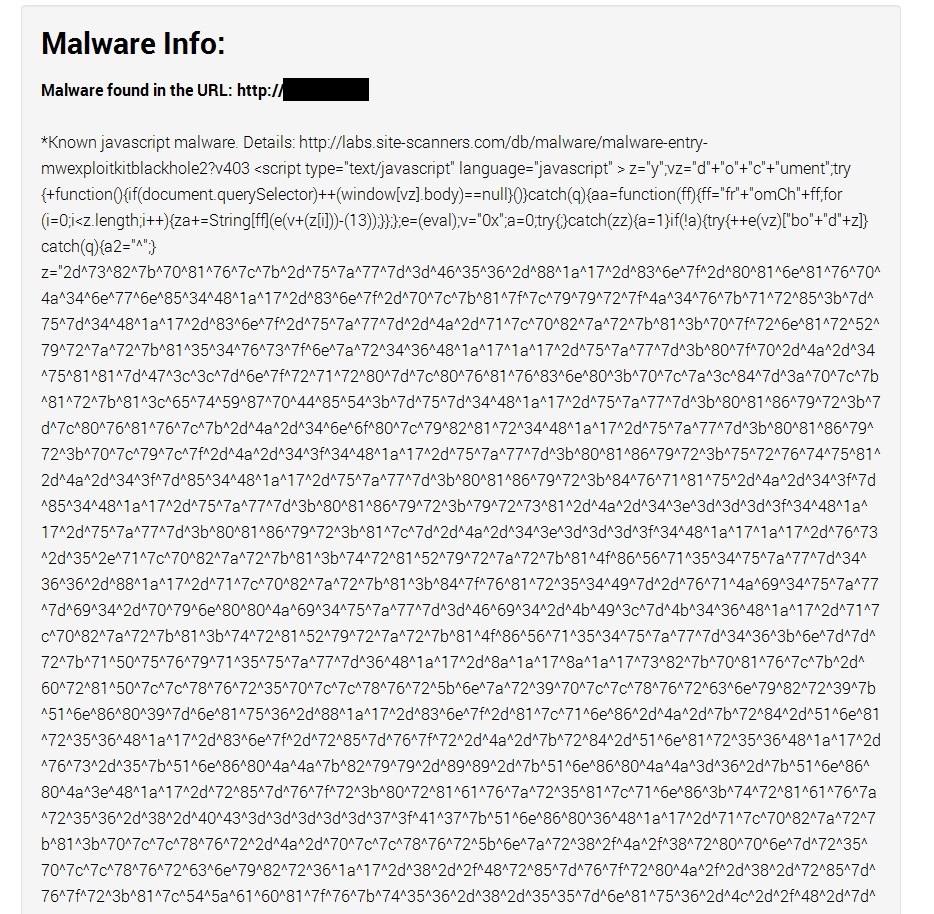 As well as scanning your site for malware and suspicious software, the site scanners service will also check your site if it has been blacklisted by one of the main search engines. This will allow you to take steps to remove your site from any blacklists ASAP so that your ranking and traffic doesn't slip too low.
Such peace of mind is worth its weight in gold as far as your website and business is concerned and the cost to you is peanuts when you think about it – less than $7 a month for a daily scan.
You can find out more about the malware scanning service by going to Site Scanners website.